Welcome to the Quincy Area Chamber of Commerce.  We are a membership-based organization of businesses and community partners, working together to further our collective interests while advancing our community forward toward a bright and prosperous future.
Quincy Area Chamber of Commerce's mission, supported by over 550 members, is to create an environment that allows members to connect, businesses to prosper and the community to thrive.
Membership in the Quincy Area Chamber of Commerce provides you with a multitude of ways to increase your visibility within the business community.  And like most membership organizations, the more you put into it, the more you get out of it.
Connect Members. Advocate for Business. Promote the Community.
To create an environment where business prospers and community thrives.
In 1887, a group of local businessmen banded together to improve the business climate in Quincy. The goals of the organization were to "stimulate and foster… in every proper way… the commercial and manufacturing interests of the city, and at all times, and every place, to promote her prosperity and growth by all means within our power, both as an association and as individuals."
The Quincy Area Chamber of Commerce is different in many ways from the Young Men's Business Association founded in 1887. Still, at our core, we remain the organization our forefathers created…working to ADVOCATE, CONNECT, PROMOTE, and PROSPER our business community in sustainable ways.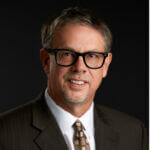 Bruce Guthrie
President/CEO
Bruce was hired as the new President/CEO in November 2021.  Bruce came from directing the Quincy Main Street Program, The District for seven years.  He has extensive experience in leadership, marketing, and events.  Bruce spent 26 years with the NBA San Antonio Spurs organization with the last 15 years as Vice President of Marketing/Operations.  He also was Director of Marketing for the Texas Motor Speedway.  He grew up outside of Mendon Illinois and graduated from Unity High School.  Bruce and his wife Carla reside in Quincy, Illinois.  They have a son Zach Guthrie who is an Assistant Coach with the NBA Washington Wizards.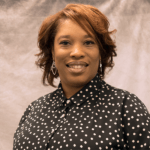 Kenyetta McFall
Communications & Public Relations Manager
Kenyetta was hired as the Communications & Public Relations Manager for the Chamber in December of 2020. Kenyetta has an extensive background in communications, public relations, and graphic design. Outside of the office, she is committed to family, her faith, furthering her creativity, and enjoys; crafts, exercising, and decorating. Kenyetta is married and has three children.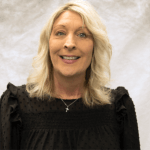 Stacy Boll
Administrative Assistant
Stacy was hired as the Administrative Assistant for the Chamber in November of 2020.  Stacy was born and raised in Quincy. She has a background in retail and customer service with a specialty in building customer relationships. Outside of the office, she enjoys fishing, camping, and four-wheel riding. In the winter months, she enjoys spending time with her family, cooking, and knitting. She is married to Ryan Boll. Together the couple has three adult children and one grandson.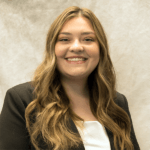 Bethany Robertson
Marketing & Membership Manager
Bethany was hired as the Membership & Marketing Manager in August 2021. She is a graduate from Quincy University with a Bachelors Degree in Marketing.  Outside of the office, she enjoys spending time with her family & friends and cuddling with her dogs.  Bethany is devoted to her faith and enjoys games nights, coffee dates and designing. She is recently married to Clayton Robertson.
No, the Chamber does not receive any funding from the City or the State.